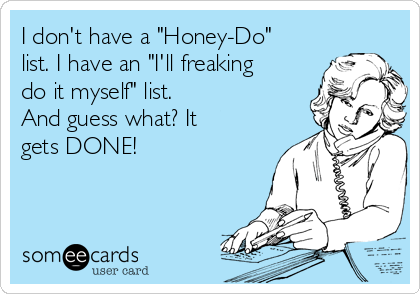 What Is A Honey Do List?
There appears to be no specific origin for the term "honey do list," though today it is commonly known as a cute way of asking a spouse or partner to help with home projects.  Most homeowners have long lists of items that need to be fixed or tended to and appreciate all the help they can get in dividing these tasks.
Common Handyman Tasks
Here are 10 of the most common items found on a honey do list.
Plumbing items– Leaky faucets and clogged drains are common issues among homeowners. Other things that fall into the plumbing category: replacing the hardware on toilet tanks, replacing toilet seats and covers, upgrading shower heads, installing new toilets and repairing garbage disposals.
Electrical issues –  Many lists contain electrical work that (on the surface at least) can seem simple enough: replacing ceiling fans, light fixtures or adding dimmer switches.
Preparing the home for a new season –Each season usually brings several home improvement opportunities. Is it time to inspect for drafts around doors and windows, install storm windows, or give your heating system a tune-up?
Caulking – Sometimes caulking is necessary when preparing the home for a new season, but don't forget around the tub or shower too. As homes settle and age, caulking is a constant maintenance job that must be revisited.
Landscaping – Fall and spring are the most common times to invest in landscaping and gardening projects. These projects can run both big (think building a retaining wall) and small (planting new shrubs).
Painting – Whether it's touching up trim or tackling a whole room, painting is often on a honey do list. This can include doors, windows, or even the exterior of the house.
Repair/patch work – Sometimes there's damage to the drywall, or broken tiles, or maybe beat-up baseboards.  Over time, homes get scraped and roughed-up and just need a little extra attention to be brought back to their original shape.
Fix the sticks and squeaks – Floors, doors, and cabinets tend to do a lot of work. Inevitably, hinges get loose or need oil and floors grow gaps and worn-out spots.
Cosmetic changes – Lots of honey do lists tackle simple cosmetic changes, like replacing the hardware on cabinets and doors.
DIY projects – Homeowners often get creative with home improvement jobs like shelving and molding that can enhance a home's overall function and appeal.
Clever Coupons
For those who love tackling a honey do list, here's a clever way to hand out coupons for your projects. For those who might want help tackling an ever-growing list, we're here to help. Let us take care of your handyman needs so you can enjoy your free time!